· After school programs that will be well-structured and organized to ensure participants benefit academically.

· Roller Skating sessions on weekends and holidays that will bring the community into East Wheeling in a safe and controlled environment. Visitors to the roller skating ring will have access to skating and other supervised activities in the gym area. There will also be Sunday and Wednesday night skating sessions for the adults in the community.

· Athletic programs in the evenings to introduce children to various sports. We will also be conducting research on how training in a different sport can help in a person's main sport.

· Computer lab that will be available for adults in the community to bridge the digital divide or improve their personal skills for job growth. The lab will also be used for senior citizens in Wheeling to learn about computers and join their peers on the Internet.

· An area for catered events covered in photovoltaic glass that can be altered to accommodate various numbers of participants from 4 to 400 and generate power for the building at the same time. This will make the building an ongoing science experiment.

· An area for theatre presentations that will provide live science theatre.

· Benefit the Dallas Pike / Cabela's project by creating additional activities to attract visitors to Wheeling.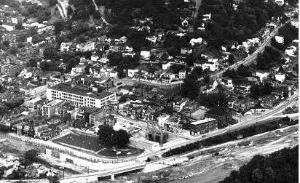 · Benefit East Wheeling by rehabilitating large structures in the community and razing others to make room for a parking lot that follows the same plan as that proposed by the East Wheeling Revitalization Plan (Urban Associates of Pittsburgh Pennsylvania in 2004).

· Benefit future plans for East Wheeling to build an outdoor athletic facility by creating an adjacent indoor athletic facility.

· Partner with WVU to establish another branch campus for students in the Northern Panhandle.

THIS PROJECT IN COLLABORATION WITH THE PLANS OF THE CITY WILL COMPLETELY TRANSFORM EAST WHEELING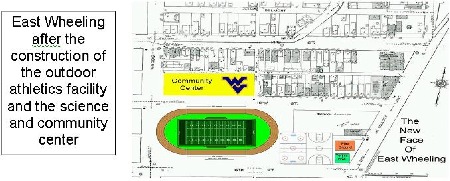 New paragraph